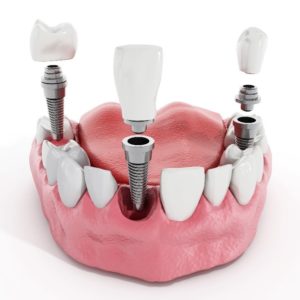 Your teeth can last for a lifetime with the right care, but that isn't a reality for many Americans. Whether from decay, disease, or trauma, 120 million adults in the U.S. are missing 1 or more teeth. Not to mention, 30 million people don't have any remaining in 1 or both arches. Thankfully, you don't need to live with an incomplete smile. Now, you have more choices than ever to replace your missing teeth. In addition to traditional prosthetics, you can also choose from dental implants in Carrollton. If you're ready to invest in a complete smile, here are your options to treat your tooth loss.

Single Tooth Replacement
Losing even a single tooth can have serious complications for your oral health because your jawbone isn't being stimulated by the root. As a result, it will slowly deteriorate, causing your adjacent teeth to lose support. You can help preserve your remaining teeth by replacing your missing tooth using a suitable treatment:
Fixed Bridge: An impression of your mouth is used to recreate the tooth you've lost. It's held in place by bonding dental crowns to the adjacent teeth.
Dental Implant: An implant post is inserted into the jawbone to act as a new root. An abutment is used to connect the restoration to the post.
Multiple Missing Teeth
Leaving several missing teeth untreated can impact your quality of life. Certain foods may be too difficult to chew, you may look older than your true age, or your words may sound slurred. Not to mention, your dental health can suffer. Depending on how many teeth you're missing, you could benefit from:
Dental Bridge: A fixed bridge can be used to replace 1-3 consecutive missing teeth. As an alternative to using crowns to support the device, an implant post at either end can secure it to your jawbone. You'll preserve healthy teeth while enjoying a solution that can last for decades with the right care.
Partials: Prosthetic teeth are attached to a gum-colored base and metal framework to rebuild your smile. You can also treat significant tooth loss using a combination of single units and implant-retained bridges.
Missing All Teeth
If you've lost all your teeth in one or both arches, you can restore a healthy, functional, beautiful smile with:
Dentures: Your dentist in Carrollton uses an impression of your mouth to create a base to hold your prosthetic teeth. It's held in place using suction or an adhesive. This is a convenient solution that can last about 5 years before needing to be replaced.
Implant-Retained Dentures: An average of 4 to 8 implant posts can stabilize your denture. You'll enjoy a nearly perfect replica of your natural teeth to invest in your smile.
Replace Your Missing Teeth
You don't need to live with an incomplete smile. Your dentist can recreate your missing teeth using the solution that's best for you.
About Dr. Afshin Azmoodeh
Dr. Afshin Azmoodeh strives to create trusting relationships with each patient to deliver the advanced care everyone needs. With over 20 years of experience, he can treat even the most complex cases, like tooth loss. If you're ready to replace your missing teeth, contact our office today to schedule your consultation.