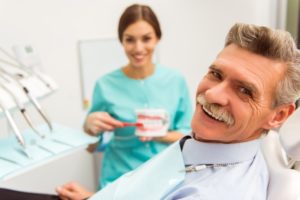 Dentures in Carrollton are a popular, affordable option for replacing missing teeth. They can help you feel more confident, speak more clearly, and get back to enjoying some of your favorite foods. However, if you experience problems while wearing your dentures, they may become more of a hassle than a help. Read on to find out what you can do about dentures that are awkward, troublesome, or ill-fitting.
What to Do if Your Dentures Feel Uncomfortable
While they may seem strange at first, your dentures are custom-made to fit your mouth as well as possible. If they begin to feel uncomfortable, try these tips:
Speak slowly. Your mouth will need some time to adjust when you first start to wear dentures. Be patient with yourself if speaking is more of a challenge than it used to be. As your body adapts to this new dental device, speak slowly and practice words you find difficult to pronounce.
Eat carefully. Sticky foods and large bites may make it uncomfortable to eat with your dentures. It's important that you chew slowly and on both sides of your mouth at the same time to keep your dentures from slipping out of place. Soft foods like eggs and yogurt are a good choice as you learn to chew with your dentures.
Use a denture adhesive. As you get used to them, you may notice your dentures sometimes slip when you speak, smile, or laugh. If this happens, bite down gently and swallow to put them back in place. Eventually, you'll learn to use your cheek and tongue muscles to hold your dentures in place, but in the meantime, you can use a denture adhesive to help them feel more secure.
Replace them. If your dentures are still bothering you after trying these tips, they may not fit properly. In this case, you should see your dentist in Carrollton to have them adjusted or replaced. Not only will this help your smile feel more comfortable, but it can prevent damage and infection to your soft tissues later as well. Remember, your dentures should be replaced every five to seven years.
Dental Implants Are A Permanent, Functional Denture Replacement Option
You can replace your dentures for a set of new ones or a more permanent solution. Dental implants in Carrollton are the only tooth replacement option designed to replace your missing tooth or teeth both above and below the gumline. Since they're anchored into your jawbone directly, they can mimic the stability, comfort, and function of natural teeth even better than dentures. They even stimulate blood flow in your jawbone, which prevents it from deteriorating.
If you're missing all or most of your teeth, an implant-retained denture may be right for you. You can go about your daily life without worrying about them slipping out of place, getting in the way of your speaking and eating, or looking unnatural. In fact, they're so comfortable and durable you may even forget they're there!
No matter how many teeth you're missing, you can be confident in your comfortable, functional smile with dental implants or implant-retained dentures.  With regular brushing and flossing, your new teeth can last you a lifetime!
About the Author
At Epic Family Dentistry in Carrollton, TX, you can expect the personal attention of a family-owned dental office with all the newest, most advanced technologies and techniques of a big-city office. Dr. Afshin Azmoodeh is an active member of the American Dental Association, and his additional training in specializations like implant dentistry led him to be nominated as one of "America's Best Dentists" in both 2015 and 2016. He would love to help you get the comfortable, dependable, and lifelike smile you deserve, so feel free to contact him via his website or (972) 820-7294 if you have any more questions about dentures or dental implants.