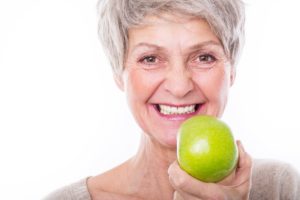 If you've lost one or more teeth, you might feel embarrassed by your incomplete smile. You may also struggle to chew certain foods or notice your oral health declining. You don't need to live with the complications of tooth loss. You have more options than ever to replace your missing teeth. Although there are multiple solutions, only one provides a close replica of your natural smile. You'll never know your new teeth aren't your own when choosing dental implants in Carrollton.

How are Dental Implants Different?
Traditional dental prosthetics replace the portion of the tooth that's visible above the gum line. While there have been several improvements to their function and appearance, they will always have their limitations. Dental implants resolve the common disadvantages of conventional prosthetics because they recreate the entire structure of a tooth, including the root.
A titanium implant post is surgically placed into your jaw to act as a root. As a result, it stimulates new bone growth, allowing your jaw to fuse to it through a process called osseointegration. After you've fully healed, your dental implants can stay in place for decades with the right aftercare, like maintaining your oral hygiene and regular preventive appointments.
Do Dental Implants Feel Natural?
Dental implants don't rely on other teeth for support. Instead, they anchor your replacements to your jawbone. You'll never need to worry about any slipping or irritation because they closely mimic your tooth's natural structure. It will withstand the force of regular biting and chewing, so you can enjoy your favorite foods again. In fact, you can regain as much as 70% of your natural biting force when supporting your restoration with a dental implant.
With over a 95% success rate, your new smile can last for several decades with the right aftercare. Your implant should never feel loose or painful. If you develop any discomfort, it can be a sign of an underlying complication. You should see your dentist in Carrollton to have the problem addressed.
Do Dental Implants Look Natural?
You can feel confident when smiling, chewing, or speaking because dental implants look natural. Your gum tissue heals around the abutments to create a natural-looking gum line when your restoration is attached to it. Your prosthetic teeth are made of all-ceramic material to blend in with any remaining teeth. Your new smile is customized to ensure your teeth are the ideal size, shape, and color for flawless results.
Enjoy a Lasting Solution
No matter if you've lost a single tooth, multiple teeth, or an entire arch, you can enjoy the next best thing with dental implants. You'll invest in a strong bite using a long-term solution.
About Dr. Afshin Azmoodeh
Dr. Afshin Azmoodeh has over 2 decades of experience as a dentist. As a lifelong learner, he's committed to regularly continuing his education to provide his patients with modern services. He offers the latest solutions to treat tooth loss, including dental implants. If you're ready to rebuild your smile, contact us today to schedule your consultation.