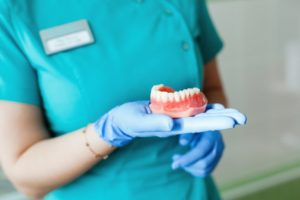 From eating, to speaking, to smiling with confidence, missing teeth can make everyday life much more difficult. If you are suffering from moderate to severe tooth loss, dentures in Carrollton are a great way to quickly regain a complete smile! These classic, reliable restorations can help you replace many missing teeth or even an entire arch so you can get back to enjoying life to the fullest. Here's a breakdown of the process of getting dentures!
Preliminary Procedures
Before replacing your missing teeth, it's important that your smile is healthy. This means that you may need to complete some preliminary treatments before you can be fitted with dentures. If you need a tooth extraction or gum disease therapy, it will take a little bit longer to replace your missing teeth.
Getting the Blueprints for Your Dentures
Once you're ready to begin the process of getting dentures, your dentist will start by taking impression of your mouth. These images of your remaining teeth and/or your gum ridge will serve as the blueprints for your new dentures. This information will be sent off to a dental lab where it will be used to create your denture.
Your dentist will also likely take measurements of your bite pattern. Wax blocks are used to make sure that your bite is comfortable and that your upper and lower jaws line up correctly. At this point, you may also be asked to choose the shape, size, and color of your new teeth.
Testing the Wax Model
When your new teeth are created, your dentist will set them into a wax mold of your new denture. You'll be able to try on this wax model to get a preview of what your new denture will look and feel like. If there's anything you don't like or that doesn't feel comfortable, your dentist will be able to make adjustments to the mold so that any issues are corrected in the final denture.
Having Your New Denture Fitted
Before you know it, your beautiful, custom-made denture will be ready for you! You'll return to your dentist's office to have it fitted. They'll make sure your bite feels comfortable and that you're happy with your new smile. Additionally, they'll take the time to demonstrate the best ways to care for your new denture, including how to take it out, put it back in, store it, clean it, and more. After they've answered any questions you may have, you'll be ready to go out and enjoy your new smile!
While the process for getting dentures is relatively fast, your new restoration can easily last for many years to come with the proper care. Call your dentist today to start your journey towards a complete smile!
About the Dentist
At Epic Family Dentistry, Dr. Afshin Azmoodeh (affectionately known by his patients as Dr. A) has been serving the smiles of Carrollton and the surrounding communities for over 20 years. He values the trusting relationships he builds with his patients and is proud to provide high-quality, compassionate dental care. Whether you're interested in dentures, dental implants, or simply replacing your missing teeth, he'll be happy to help you regain a complete, confident smile. To begin your tooth replacement process, contact him today via his website or at (972) 820-7294.