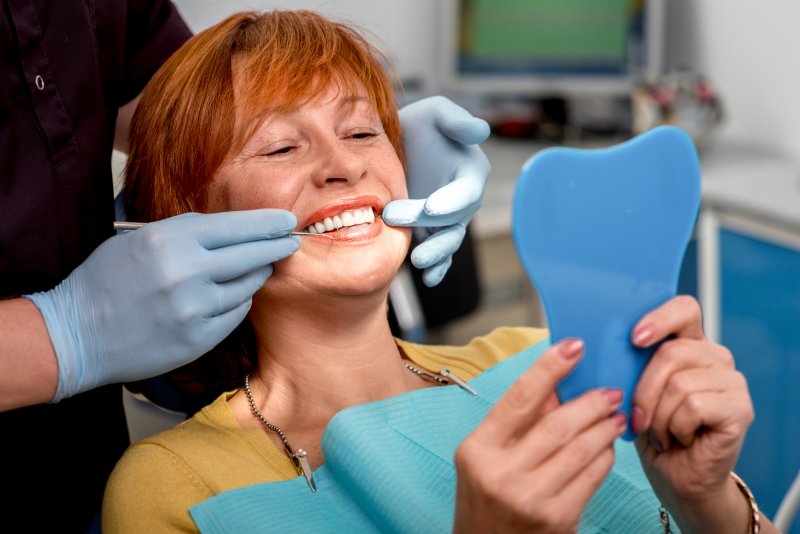 Are you ready to say 'farewell' to your dentures? Even though they are an excellent tooth replacement option and can be lifechanging for people who are missing most of or all of their teeth, there are some downsides that many patients don't prefer to put up with. Fortunately, dental implants in Carrollton can provide benefits that dentures don't. Continue reading to learn some of the advantages as well as some tips for the transition from dentures in Carrolton to dental implants.
Benefits of Dental Implants Over Dentures
You may be wanting to transition to dental implants for a number of different reasons. Here are some of the most common:
Easy to Care for: You don't need to stock up on adhesives or soaking solutions in order to maintain your dental implants. You just care for them how you would with your natural teeth. Brush, floss, rinse, and see your dentist!
Zero Food Restrictions: Once your implants completely heal, you won't need to worry about cutting out any of your favorite foods. Dental implants can restore up to 90% of your natural chewing power while dentures only restore around 30%.
Prevents Bone Loss: Dental implants remain the only tooth replacement option that replaces the root of the missing tooth. It prevents the jawbone from being reabsorbed by stimulating it through regular chewing.
Increased Stability: If dentures aren't fitting properly, they can shift and slide in the mouth, making it more difficult to speak and eat. Implants are anchored into the jawbone, are therefore provide as much stability as your natural teeth.
Last Longer: You need to take your dentures in periodically to have them relined and replaced. Implants can last upwards of 25 years and even the rest of your life if you care for them properly.
3 Tips for Making the Transition
Naturally, it will take a little bit of time for you to make the transition and get used to your implants. Here are a few tips to help:
Allow for Healing Time: Once you have your placement procedure, remember that you will need to take it easy for a few days. Take some time off work and get plenty of rest.
Stick to Soft Foods: You can eat whatever you like when your implants completely heal. Until then, you should stick to softer foods to help the process go more smoothly.
Adjust Your Oral Hygiene Regimen: Stick to regular brushing, flossing, and rinsing. You can find special toothbrushes made for people with dental implants to make this easier.
Even though there is a transitionary period between your two tooth replacement options, you're be glad that you did it. By using the tips above, you'll be reaping the benefits of dental implants in no time!
About the Author
Dr. Afshin Azmoodeh is an experienced dentist who has been serving patients in Carrollton for nearly 20 years. He is committed to continuing education, including specialized training in implant dentistry, to keep his knowledge and skills sharp. Currently, he is a member of the American Dental Association. He was nominated as one of "America's Best Dentists" in both 2015 and 2016. For more information on dental implants or to schedule an appointment, visit his website or call (972) 820-7294.