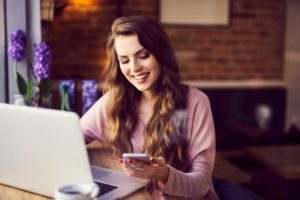 Did you know that time spent on social media has spiked by a whopping 61% since the start of the stay-at-home orders? According to Forbes, experts are reporting a significant surge in usage as a result of the COVID-19 pandemic. While this isn't inherently harmful, it is a dangerous combination when risky social media trends are introduced to someone desperately searching for a cure to their boredom. Unfortunately, this has led to many patients considering mail order braces, which promise to deliver powerful teeth-straightening effects at a fraction of the cost. Read on for three reasons to avoid mail order braces and opt for Invisalign in Carrollton instead.
They Bypass Initial and Follow-Up Appointments
When it comes to straightening your smile, there is no room for error. That is why in-person exams are so important. In fact, skipping the initial consultation can negatively impact your oral health and hygiene by not considering the condition of your teeth. Plus, follow-up visits ensure that your treatment is going smoothly and that red flags are treated immediately. Unfortunately, patients with mail order braces have nowhere to turn when loose, cracked, or otherwise damaged teeth occur as a result of their treatment. Therefore, it is important to start with the professionals so your straight teeth don't come at the cost of your oral health!
They Can Cause Costly (or Irreparable) Damage
Although people often look at Invisalign and traditional braces as just a teeth-straightening tool, they do more than just that! When guiding your teeth into the desired location, they think about everything from the root to the crown. However, if the entirety of the tooth is not considered, it can result in unintended consequences to the jawbone, roots, and supporting teeth. To prevent this from negatively impacting your bite, speech, and self-confidence, forgo mail order braces altogether.
They Are Not Approved by the American Dental Association
The ADA seal of approval is designed to help the public know which brands and products to trust when it comes to their oral health. After all, the mission of this organization is to provide people with safe, effective dental care tools that result in beautiful, healthy smiles. However, mail order braces have not undergone rigorous testing or met their high standards, leading the ADA to speak out against them. In fact, they have even gone as far as saying that mail order braces are dangerous and not appropriate for dental treatment. Instead, opt for an ADA-approved method of teeth-straightening, like Invisalign.
Mail order braces may initially seem convenient and cost-effective; however, they can end up damaging your teeth and leading to costly repairs. Therefore, it is important to speak with your dental team from the start. That way, you can get the smile upgrade you desire without the risk!
About the Author
Dr. Afshin Azmoodeh, or "Dr. A" as his patients like to call him, began his career after graduating from the Texas A&M College of Dentistry with his doctorate. Today, he uses his two decades of experience, love for building trusting relationships, and passion for dentistry to provide his patients with top-notch dental care that is second to none. If you would like to straighten your teeth or are looking for a dentist in Carrollton, don't hesitate to visit his website or give him a call at 972-820-7294.