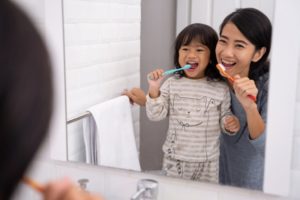 During everyday life, our dental hygiene routine is often more of a nuisance than a priority. That means that brushing is often left to early mornings or tired evenings, and flossing happens once every blue moon. If this sounds all too familiar, then you are not alone.
To bring attention to the importance of oral care, the American Dental Association and the Colgate-Palmolive Company joined forces and declared June the Oral Health Month! Although this may initially seem like just another social media holiday, its momentum and message are extremely important for you and your family. Your dentist in Carrollton shares three reasons why you should join their #TimetoSmile initiative this summer.
Cavities Are on the Rise
When poor dental habits are present, cavities are never far behind. While cavities have been on the rise since the early 1990s, recent years have shown a spike in both children and adults alike. According to the American Dental Association, roughly 51% of children ages 6 to 11 have cavities. Also, a shocking 91% of Americans between 20 and 64 years of age have cavities in their permanent teeth. To prevent your summer fun from turning into fall cavities, Oral Health Month is placing emphasis back on preventive strategies, like consistent, effective brushing and flossing. To participate, simply snap a photo of yourself or your family practicing dental hygiene and share it with #TimetoSmile in the caption. It will put some fun back into your routine and get your whole family excited about taking care of their smile!
Fewer People Are Visiting the Dentist
According to the Adult's Oral Health & Well-Being Survey, only 58% of people visit the dentist at least once a year. In addition to being considerably low, this statistic is also down from 62% the year before. Although more and more people are forgoing their bi-yearly visits in lieu of busy calendars, those appointments are more important now than ever. Not only can signs of tooth decay and cavities be caught early on, but it also gives your teeth a professional cleaning that removes stubborn plaque from those hard to reach areas. Since June is typically home to a more relaxed, flexible schedule, Oral Health Month encourages people to schedule their summer appointment.
Oral Health Month Is Giving Back
While it is crucial to practice proper oral hygiene every day, the American Dental Association and the Colgate-Palmolive Company recognize that not everyone has the tools they need to do so. Therefore, they are using the power of their movement to give back to underserved children. For each photo shared, they are donating $1 to the Give Kids A Smile program, which is dedicated to providing dental care for those who need it most. So, by simply sharing your proper oral hygiene routine, you can be a part of something bigger than just your smile.
The consequences of poor oral care can wreak havoc on your teeth and gums. To preserve your smile, use the message and momentum from June's Oral Care Month to incorporate good dental habits for years to come!
About the Author
For nearly two decades, Dr. Afshin Azmoodeh has provided world-class service and exceptional dentistry to the people of Carrollton. In addition to his extensive experience and degree from the Texas A&M College of Dentistry, the American Dental Association nominated him in 2015 and 2016 as one of "America's Best Dentists." If you have any questions about improving your oral hygiene routine or would like to schedule your summer visit, don't hesitate to visit his website or give him a call at 972-820-7294.