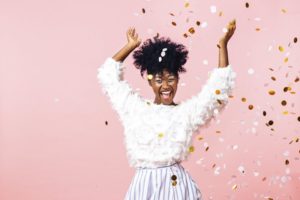 Researchers estimate that about 80% of New Year's resolutions don't make it past February, usually because they were too difficult to accomplish, not clearly defined, or didn't yield results fast enough. This year set an attainable goal with life-changing results by deciding to get the smile you've always wanted! It's never been easier, faster, or more comfortable to improve the imperfections in your teeth with the help of your cosmetic dentist in Carrollton. Try any of these popular cosmetic dental services and start enjoying the benefits of a beautiful, confident smile this New Year!
Teeth Whitening
According to the American Academy of Cosmetic Dentistry, Americans spent more than $1.4 billion on over-the-counter teeth whitening products last year. But with so many options available, how do you know you're picking the right one for you, your wallet, and your smile? Take the guesswork out of teeth whitening and visit your cosmetic dentist for a professional treatment for affordable and guaranteed results.
Your dentist is specially trained to use a professional-grade whitening agent that's much more effective than anything you can buy at the store. With an in-office whitening service, you can enjoy as smile that's six to eight shades whiter in as little as a single, hour-long appointment. Or your dentist can give you a personalized at-home whitening kit, which can give you equally stunning results in just a few weeks from the comfort of your own home!
Direct Bonding
If you have a few distinct spots of stubborn discoloration, direct bonding can offer a quick fix as well. This simple but effective treatment can also be used to correct small, distracting issues like chips, cracks, or gaps in your teeth. A strong, lifelike composite resin is used to fill in or smooth over these problems, allowing your dentist to literally sculpt them away. Additionally, since the resin comes in a variety of shades, the results will blend in perfectly with the rest of your smile. This procedure generally takes less than an hour, but the results can last for a decade if taken care of properly!
Porcelain Veneers
Do you want a completely brand-new smile? This may be the case if you have teeth that are worn down, broken, irregularly shaped, misaligned, or stained. If so, porcelain veneers may be the cosmetic treatment for you! Popular among celebrities and movie stars, these wafer-thin shells of porcelain can be permanently attached to the front of any problematic teeth, covering up their imperfections with the appearance of the perfect smile. They are durable, stain-resistant, and natural-looking, so they can blend in with the rest of your teeth as well as your lifestyle. With a regular oral hygiene routine, you can keep your smile looking red carpet-ready for years to come.
Give yourself a great reason to smile this New Year! Make an appointment with your cosmetic dentist in Carrolton and erase your dental imperfections with any of these easy, effective treatments.
About the Author
At Epic Family Dentistry, we're dedicated to helping families in Carrollton, TX and the surrounding communities achieve optimum oral health and a beautiful smile they can't wait to show off. Dr. Afshin Azmoodeh is proud to use a winning combination of state-of-the-art dental technology and caring, one-on-one attention to give you the best oral healthcare possible. No matter what you don't love about your teeth, he'd be happy to help you pick which cosmetic treatment is right for you and your smile. To learn more, he can be contacted at his website or at (972) 820-7294.