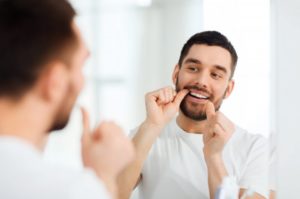 It's October, and you know what that means. Sweater weather, pumpkin spice everything, and lots of candy consumption. However, possibly to counteract that last one, October is also National Dental Hygiene Month! That's why your dentist in Carrollton is here to offer these 4 tips on how to keep your teeth and gums in great shape.
Brush Twice a Day
Most dentists recommend brushing your teeth every morning and night for two minutes at a time. A lot of people actually don't use the optimal technique when brushing. Place your brush at a 45-degree angle to the gums. That way you clean along your gumline as well. Be sure to brush every side of your teeth. This includes the inside, outside, and chewing surfaces. Don't forget to brush your tongue as well to freshen your breath!
Floss Every Day
There has been some dispute in recent years about whether flossing is effective, but your dentist will wholeheartedly say that it's necessary to keep your mouth clean and healthy. Flossing is actually the only way to clean two of the five surfaces of your teeth. It removes plaque from between the teeth and along the gumline. When plaque isn't removed, it hardens into tartar, which can cause cavities and gum disease.
Rinse with Mouthwash
Your teeth alone actually make up less than half of your mouth, so you need other tools in order to keep your mouth clean and your breath fresh. This is where mouthwash comes in. Add rinsing with mouthwash to your daily oral health care routine to reduce your risk of dental decay and infection. Just be sure to keep your mouthwash alcohol-free, as alcohol actually dries out your mouth and puts you more at risk for cavities.
Chew Sugar-Free Gum
Multiple studies have confirmed that chewing sugarless gum for 20 minutes after eating a meal or snack may reduce your risk of dental decay and gum disease. This is because the act of chewing stimulates the production of saliva in your mouth. Saliva rinses bacteria and food debris out of your mouth that, when left to accumulate there, can cause cavities. It also neutralizes the acids in the food you ate so that they cause no damage to your tooth enamel. Pack a stick of sugarless gum in your lunch if you can't brush or floss afterwards.
October might be National Dental Hygiene Month, but that doesn't mean you can't implement these tips into your oral health care regimen year-round. Follow these steps to keep your mouth healthy and happy.
About the Author
Dr. Afshin Azmoodeh is a graduate of the Texas A&M College of Dentistry. More than anything, he loves getting to know his patients well and improve their health, appearance, and confidence every single day. For more oral hygiene tips, don't be afraid to call Dr. A at (972) 820-7294 or click here to contact him.