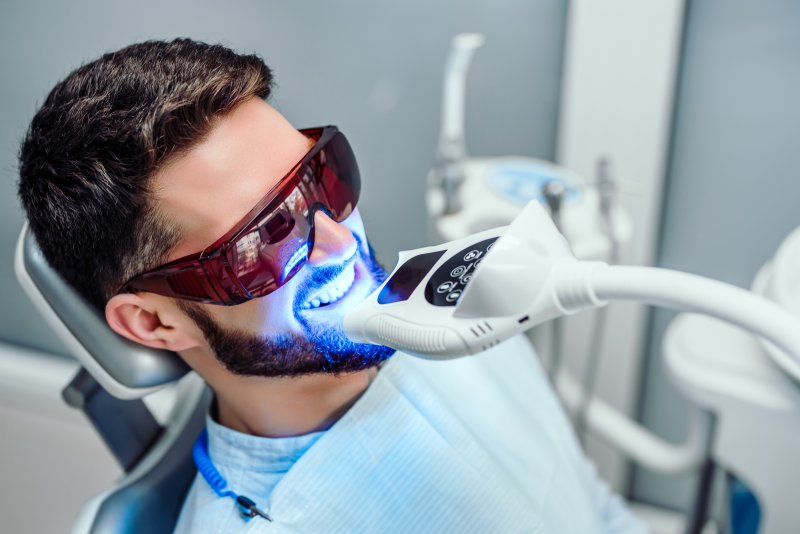 If you want to beautify your smile, you should consider cosmetic dentistry. Its wide range of services can make teeth whiter, smoother, straighter, and more! Still, you may think, "How long does cosmetic dentistry last?" After all, getting a cost-effective procedure with a long lifespan is best. It's fortunate for you, then, that your Carrolton dentist can answer your question. Read on to learn the lifespans of common cosmetic dental treatments and some ways you extend them.
Lifespans of Common Cosmetic Dental Treatments
Teeth Whitening
Per its name, teeth whitening treatment whitens your tooth enamel. It does so with a special gel that bleaches pearly whites and thus removes stains.
Because foods naturally stain teeth over time, whitening lasts from 6 months to three years. However, you may need to visit your dentist for more treatment within a year of starting.
Porcelain Veneers
Porcelain veneers are thin, ceramic layers that adhere to the surfaces of teeth. Dentists place them to help cover various smile flaws, including tooth stains, chips, fractures, and misalignment.
Veneers' porcelain material is strong and stain-resistant, meaning they can last for twenty years with good care. Therefore, brush your teeth twice daily, floss once daily, and see your dentist regularly to keep them pristine.
Dental Bonding
Dental bonding is a procedure that repairs damaged teeth with tooth-colored resin. The latter material covers up minor chips and stains, resulting in a pleasing smile.
While durable, the bonding agent used for treatment wears away from eating and drinking. As such, this resin procedure's life expectancy ranges from three to ten years.
Gum Recontouring
If you have a "gummy smile," you might want to get gum recontouring. Using a dental laser, the procedure removes excess gum tissue to enhance your teeth. More specifically, it helps reveal more of your enamel so your white smile is more visible!
Gum recontouring's results are permanent. Because gums don't grow back removed tissue, you'll never have to deal with "gumminess" again!
Tips for Extending Cosmetic Dentistry Results
For cosmetic treatment to last as long as possible, you need to practice good oral hygiene. That said, follow the tips below in the future:
Brush your teeth twice daily with fluoridated toothpaste
Floss between your teeth once daily
Limit the sugary foods in your diet and have mouth-healthy substitutes instead.
Avoid bad oral habits like smoking, teeth grinding, etc.
Have regular dental checkups and cleanings with your local dentist.
Knowing cosmetic dental procedures' lifespans gives you a better idea of which is right for you. That said, talk to your dental practice about your options in the coming days!
About the Practice
Epic Family Dentistry is based in Carrolton, TX. As led by Drs. Azmoodeh and Shin, the practice offers its patients highly-personalized dental care. To that end, its staff can perform preventive, cosmetic, and restorative dentistry, as well as emergency procedures when needed. The team can even provide dental sedation upon request. For more information or to book an appointment, you can reach them on their website or by phone at (972)-820-7294.