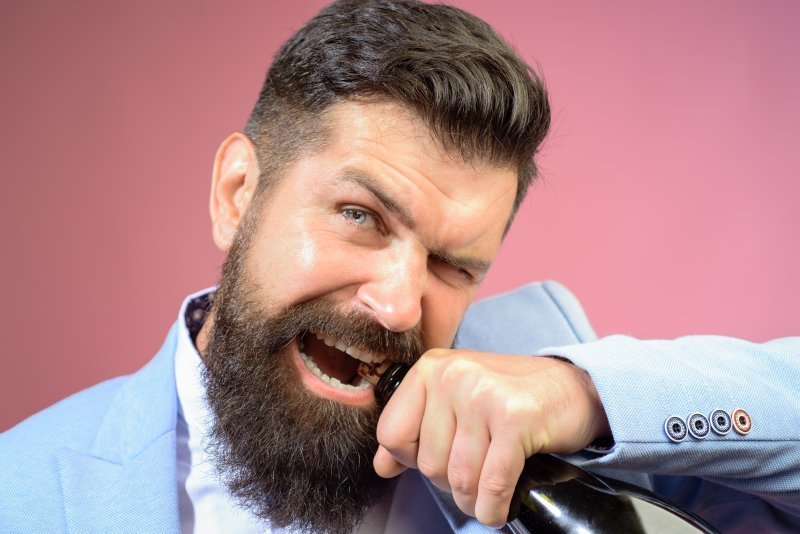 Whether you have dental implants in Carrollton now or are planning on getting them in the near future, you probably know that one of the many benefits is that they are long-lasting. In fact, when you care for implants properly, they can last upwards of 25 years and even for the rest of your life. You may never have to worry about your missing teeth again! However, if you want your implants to last, you need to avoid the following bad habits than could damage them.
Nail Biting
It can be difficult to stop biting your nails. It is one of the most common bad habits that people have. Not only can it be harmful for your overall health because you are bringing bacteria and viruses into your body, but it can also damage your dental implants. Nail biting puts your teeth at risk for braking and chipping, and it causes you to place pressure on the jaw when it is in a protruded position for too long. You may even end up with torn gum tissue. A few ways that people cut out this habit is by taking steps to reduce stress, using a bitter nil polish, or investing in a manicure.
Brushing Vigorously
Brushing your teeth is necessary for proper oral hygiene, but if you are doing it too hard, you aren't going your smile much good. Your dentist in Carrollton warns that if you are brushing your teeth too hard, this could be worse than not brushing your teeth at all. You could end up accidently damaging your natural tooth enamel and gum tissue. A healthy implant relies on your gum tissue in order to be successful. Remember to apply gentle pressure and always use a soft-bristled toothbrush.
Biting on Inedible Things
As a nervous habit, many people chew on items that are not meant to be consumed at all. This can include pens, pencils, and other objects. This can put too much pressure on your implants, therefore damaging the bone that secures them.
Using Your Teeth as Tools
Even though it may seem convenient to use your teeth to do simple jobs, lip pop bottles, rip open packaging, or cut through threat, this is not what they were meant for. Dental implants do not have a periodontal ligament to cushion them, so they are especially vulnerable to pulling and twisting forces.
Frequent Snacking
Most of us like to have a few snacks throughout the day, but if you find yourself constantly eating them, your teeth will not be thanking you. Bacteria feeds off of sugary and starchy foods in the mouth and produces acid as a by-product. Ultimately, your enamel can become damaged and you will be more likely to experience decay. If the teeth and gums around your implants aren't healthy, they will suffer as well.
Dental implants are a great option for people who are missing teeth, but it is important that you take precautionary measures to keep them in good shape. This way, you will be able to reap their benefits for many years down the road.
About the Author
Dr. Afshin Azmoodeh is an experienced dentist who has been serving patients in Carrollton for nearly 20 years. He is committed to continuing education, including specialized training in implant dentistry, to keep his knowledge and skills sharp. Currently, he is a member of the American Dental Association. He was nominated as one of "America's Best Dentists" in both 2015 and 2016. For more information on dental implant care or to schedule an appointment, visit his website or call (972) 820-7294.