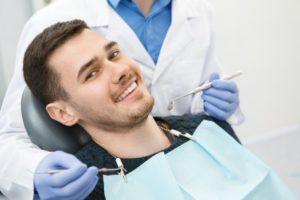 With the new year just around the corner, if you have dental insurance, your benefits will likely reset. You'll have an excellent opportunity to get a fresh new start to your oral health. If a dental visit isn't high on your priority list at the moment, after reading what a dentist in Carrollton has to say about the advantages of taking action, you'll likely have a different outlook. Continue reading to learn why you should schedule a checkup at the start of the new year!
Meet Your Deductible Early
Most dental insurance plans require you to meet a $50 deductible before your benefits activate. With the average preventive care visit averaging around $200, you can easily meet this requirement. And by taking care of this early in the year, when you visit for your second preventive care appointment, you won't have to worry about an out-of-pocket expense.
A Way to Identify Problems Fast
One of the most important features of a preventive care visit is the dental checkup you'll receive. Both the dental hygienist and dentist will perform thorough examinations to ensure that any issues are identified.
Here are some of the snares that can be detected:
Cavities
Signs of gum disease
Indications of oral cancer
Evidence of teeth grinding
Tooth damage like cracks, or other structural issues
The sooner any problems are discovered and a treatment plan is developed to address them, the more advantageous it is.
The Benefits of Early Detection
Finding and addressing problems sooner could be integral in salvaging a tooth or preserving valuable gum tissue. Additionally, discovering issues earlier can save you money in the long run, by helping you avoid more complicated procedures that require a greater out-of-pocket investment. Still, in a more pressing situation like an oral cancer diagnosis, early detection and treatment could sustain your life.
An Easy Scheduling Solution
If you've already been busy in 2020, then chances are 2021 will be even more hectic. That means you could forget to schedule your preventive care visits. Anything that can help you stay on schedule is valuable. By simply visiting a dentist early in the year for a checkup, you'll place yourself on a natural cycle. That's one dental visit in the winter and the other in the summer.
Not only will visiting the dentist on a regular basis help to fortify your oral health and protect your bank account, but it will also aid in maintaining a nice and attractive smile. After all, you want to feel confident about putting your ivories on display. By kicking off the year with a visit to a family dentist in Carrollton, you'll have one less item to worry about, and you'll be well on your way to strong teeth and gums!
About the Author
Dr. Afshin Azmoodeh earned his dental degree from the Texas A&M College of Dentistry. Over the past two decades, he has continuously encouraged his patients to take a proactive approach to their oral health by maintaining preventive care visits. Dr. Azmoodeh provides compassionate and attentive care at Epic Family Dentistry, and he can be reached for more information through his website.