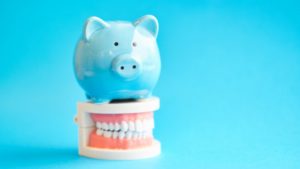 Right now, everyone's looking for practical ways to bulk up their savings. If you're combing through your expenses to determine what you can do without, you may be tempted to cancel your upcoming dental checkup. After all, if your teeth look and feel fine, why go to the dentist? The truth is, these simple visits can save you a significant amount of time, money, and headache in the future, even if you think your smile is healthy. Read on to find out how visiting your Carrollton dentist twice a year can help you save money.
1.) Prevent Costly Future Problems
A little prevention can go a tremendously long way in keeping your smile healthy. In fact, studies estimate that for every dollar spent on preventive dental care, up to $50 of repairs and treatments can be saved in the future. While you may not notice issues like cavities and gum disease developing, they can lead to serious, more painful, and more expensive complications. Routine dental checkups are the best way to spot and stop these problems when they're still small and more affordable to treat.
2.) Save Money on Cosmetic Treatments
There are plenty of cosmetic treatments that can help you overcome dental imperfections, but these services typically aren't covered by dental insurance. On the other hand, nearly every plan will cover 90-100% of routine dental checkups and cleanings. These affordable appointments can help keep your smile naturally beautiful and free of chips, cracks, stains, and more.
3.) Avoid Expensive Dental Emergencies
Not every broken, painful, or knocked-out tooth can be avoided. However, regular preventive care can dramatically lower your risk of dental emergencies and the expenses they incur. Your dentist can spot factors, habits, and developing problems that may be putting your oral health in danger. A few preventive measures and precautions can make all the difference in keeping your smile strong, healthy, and intact.
4.) Spend Less on Overall Healthcare Costs
Ongoing research indicates that your oral health can influence the wellbeing of the rest of your body. Unhealthy teeth and gums have been connected to a higher risk of a host of systemic health conditions, including diabetes, arthritis, memory loss, kidney problems, and heart disease. In fact, surveys indicate that those with poor oral health tend to pay more in cardiovascular care than those with a healthy, well-cared for smile.
Keeping up with your routine dental checkups and cleanings is an investment that benefits both your smile and your wallet. If you are still concerned about the cost of your oral healthcare, talk to your dentist about how to maximize your dental insurance and what financing options are available to make your care as affordable as possible.
About the Practice
At Epic Family Dentistry, we believe that optimal oral health should be an achievable goal for everyone. We are in-network providers for all PPO dental insurance plans and are dedicated to maximizing your benefits for every appointment. We also proudly accept government-issued insurance plans such as Medicaid, CHIP, Liberty, DenaQuest, and MCNA. For our patients without dental insurance, we also offer affordable financing options through CareCredit, which can break down the cost of your treatment into payments that easily fit into your monthly budget. To see how affordable caring for your smile can be, don't hesitate to contact us via our website or at (972) 820-7294.