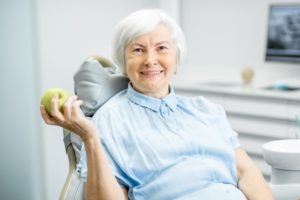 Just like your natural teeth, dentures supported by implants need to be cleaned on a regular basis. Otherwise, the plaque and tartar that accumulates on them could lead to painful – and potentially dangerous – gum disease. Implant-retained dentures can be permanently fixed in place or removable, and both kinds require unique types of maintenance. Below are some tips for keeping your new smile clean so that it can last as long as possible.
Cleaning and Maintaining a Fixed Implant-Retained Denture
If the denture doesn't come out of your mouth, you'll need to take special steps to make sure you're keeping the area underneath clean and healthy. One way to do this is to use a water pick with adjustable flow. Simply place the nozzle between the gums and the prosthetic and spray the area. This should flush out any trapped debris.
You can brush fixed dentures like you would regular teeth. However, you should be very careful about the kind of toothpaste you use; if you choose a brand that's too abrasive, it might scratch the surface. Ask your dentist which kind of toothpaste is bet. While brushing, pay attention to the gums. Try and get the bristles under your false teeth if possible. Don't forget to floss; look for a product like Superfloss from Oral B that can effectively clean a prosthetic.
In addition to a strict daily oral hygiene regimen, schedule a dental cleaning every six months. A dentist will be able to take care of plaque and tartar in areas that you've had trouble reaching.
Cleaning and Maintaining Removable Implant-Retained Dentures
Some dentures snap on and off implants. When cleaning this type of prosthetic, take it out of your mouth and brush it thoroughly with a denture brush, soap, and water every night. As for the posts in your mouth, you can brush them as you normally would – in other words, using a regular toothbrush and toothpaste. Take the time to brush your gums after removing your prosthetic. It's also a good idea to start cleaning your tongue; after all, bacteria can accumulate there just as easily as they accumulate anywhere else in your mouth.
Alternatively, you can soak your dentures with polydent tabs, but this should only be done once a week. Using the tabs too frequently could turn your dentures orange.
Just like fixed dentures, removeable dentures should be cleaned by a professional every six months or so.
Your dentist in Carrollton might have additional instructions for you depending on the kind of dentures you get and whether you're receiving a prosthetic for one or both arches. Make sure you follow these instructions well; implant-retained dentures can be life-changing, but if you want to keep your new grin, you'll need to take excellent care of it!
About the Author
Dr. Afshin Azmoodeh has been practicing comprehensive dentistry in Carrollton for nearly 20 years. He has undergone specialized training in implant dentistry, making him skilled in both placing implants and restoring them with beautiful, comfortable dentures. To schedule an appointment at his practice, Epic Family Dentistry, visit his website or call (972) 820-7294.