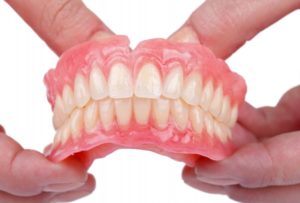 Your false teeth will make a big difference in letting you live your day-to-day life, but by no means should you expect them to last forever; sooner or later, they'll need to be replaced. Otherwise, you could suffer from sore spots in your mouth or stomach problems from poorly chewed food. So how long can you expect your dentures in Carrollton to last, and what are the signs you need to replace them? A trusted dentist can give you the answers you need to keep your smile healthy and full.
What is the Average Lifespan of Dentures?
Most of time, dentures will last for about 7 to 10 years. If you've been wearing one set for longer than that, it's a good idea to have them checked by your dentist in Carrollton. Note that the material that the dentures are made of won't significantly change its expected lifespan.
What are the Signs That Dentures Need to Be Replaced?
Any of the following issues are usually a good sign that your dentures either need to be repaired or traded in for a new one:
A Changed Fit: There will be frequent shifts in your jawbone once you've lost your natural teeth. This can eventually cause your dentures to become loose or wobbly, and that can make it hard to eat and speak properly.
Broken Teeth: While dentures with broken teeth can sometimes be fixed, you'll need your dentist to check the extent of the damage first. (Do not try to fix them yourself.)
Broken Denture Base: Since the base is the single most important part of the dentures that allows them to work properly, you will need to get a replacement if it's broken.
Stains and Discoloration: Cracks in your dentures will let bacteria hide inside of them. This will affect the appearance of your false teeth – but more importantly, it will put you at risk for gum disease.
Unexplained Pain: If there's pain in your mouth, back or shoulder, you should have your dentures examined right away.
What's a Good Solution for Broken Dentures?
If you don't want to replace your dentures as often, in some cases you can upgrade them with dental implants in Carrollton. Implants will stop your jawbone from deteriorating, so you won't have to worry about your dentures becoming loose in the future. Also, since your false teeth will be permanently secured in your mouth, there won't be any risk of dropping or breaking them when you take them out.
Talk to your dentist about implant-retained dentures as well as other signs that false teeth need to be replaced. A complete grin makes all the difference for your health and confidence, so make sure you're getting the most out of it!
About the Author
Dr. Afshin Azmoodeh – Dr. A to his patients – is constantly striving to expand his expertise and experience in the field of dentistry. As such, he's undergone specialized training in implant dentistry and can combine it with traditional dentures to fully repair smiles. If you have missing teeth, you can schedule an appointment at his practice, Epic Family Dentistry, by visiting his website or calling (972) 830-7294.