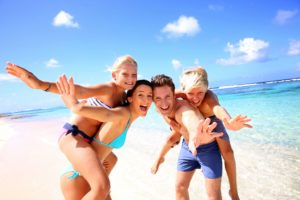 You're sitting on the beach with your family, completely relaxed. You've worked hard to afford this vacation. You've been waiting for it all year. Your spouse passes you some chips. Certain that this is the happiest you've felt in years, you take one. It feels crunchier than it should. Then a wave of pain shoots through your mouth. You spit out your food and in your hand is the crown you got years ago, dislodged with a huge crack in it. Now there's a hole in your mouth radiating pain. It's so bad that it might just ruin your vacation! A dentist in Carrollton explains how you can prevent this from happening.
What Can Cause a Dental Emergency?
Generally, the more dental work a tooth has had, the more unpredictable it can be. A tooth with a filling, for example, is structurally weaker than a tooth with no filling. Teeth with cracks or fractures can have a hard time standing up to the daily wear and tear of chewing.
Another thing to consider is how old your dental work is. Crowns can last from 10-15 years, so if it's been almost that amount of time, it may be time to visit your dentist to replace it.
Not maintaining proper oral hygiene is a huge cause of dental emergencies. Going without brushing, flossing, or regular checkups and cleanings for too long can lead to huge problems down the road. In addition, eating sugary or sticky foods can trigger decay later, making emergencies more likely.
Of course, you can't always plan for an emergency. Injuries can happen at any moment, beyond your control. You could be roller blading and take a dive out of nowhere and it could chip your tooth.
How Can I Avoid a Dental Emergency?
While there is no 100% certain way to prevent a dental emergency, there are a few things you can do to lower your chances of having one:
Wear mouthguards during sports. It might not fit the beach volleyball aesthetic you want, but it looks better than a cracked or missing tooth from an injury.
Don't use your teeth as tools. Using your teeth to pop the cap off a bottle of soda or beer looks cool in the movies, but in real life, it can cause serious damage.
Avoid super sticky or crunchy foods, especially if you already have tooth decay. Chewing ice can help you keep cool, but simply letting it dissolve in your mouth can have the same effect without hurting your teeth. The same thing goes for hard candy. By letting it dissolve, you can really savor the flavor.
Brush your teeth twice a day, and floss once a day. This is the best thing you can do for your teeth. Don't forget to pack your toothbrush, toothpaste, and floss with you on your vacation. You'll have plenty of time to hang out on the beach. You can spare a few minutes a day to help your oral health.
Visit your dentist twice a year for checkups and cleanings. Many problems can be nipped in the bud at these regular appointments before they cause bigger problems down the road.
If you follow all these tips, you can keep your teeth healthy and safe and avoid a trip to your emergency dentist in Carrollton this summer. You can enjoy your vacation to the fullest!
About the Author
Dr. Afshin Azmoodeh, or "Dr. A," as his patients call him, has practiced in Carrollton, TX, for nearly 20 years. He believes that great dentistry is built on a trusting relationship between dentist and patient. He gets to know his patients before starting any treatment. To talk to him about how to protect your teeth this summer, visit his website or call him at (972)-820-7294.